Slovenian-German dictionary
Slovenia – not to be confused with Slovakia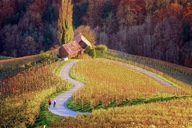 Slovenia? Slovakia? What's the difference, again? Caution: Anyone mixing up Slovenia with Slovakia will quickly make themselves unpopular with the locals. Especially considering that Slovenia has been an independent nation for more than 15 years since the breakup of the former Yugoslavia; the time shared with Slovakia as part of the Austro-Hungarian monarchy is even further back in time. Admittedly: given the similarity in languages, this can also happen quite quickly. Slovenians refer to their native tongue as slovenščina, Slovakian as slovaščina. Conversely, Slovakians call their own language slovenčina while using the almost identical slovinčina for Slovenian. For anyone who can keep this clear in their mind, the rest is actually quite easy. And for anyone getting started, the Slovenian-German online dictionary from Langenscheidt is a great help when it comes to deciphering the small but subtle differences of the Slovenian language.
Intercultural exchange in and with Slovenia
This is not just spoken in Slovenia but also in countries in which Slovenians live today, where they are recognised as indigenous minorities in some cases. As in Austria's Carinthia, for instance, where some place signs display names in two languages. This means that anyone travelling to Austria can also impress locals with their newly acquired linguistic skills, and express their appreciation for the foreign culture. Even in Italy and parts of western Hungary, small minorities continue to honour and uphold Slovenian traditions. This is not just reflected in the language but also in the shared culture.
Wine connoisseurs will appreciate Slovenia for the Terrano, a special variety of wine which can only be found in Slovenia. And the second largest city of Maribor is even listed in the Guinness Book of Records for the oldest grapevine in the world. Given its geographical location, the country's cuisine is also well diversified: In addition to Baltic influences, there is also no shortage of Mediterranean delicacies on the Adriatic coast. Whether it's hearty stew, Carniolan sausage or tasty desserts such as slices of cream cake or curd cheese strudel – Slovenian cuisine will more than satisfy your appetite. Those who do not want to rely on the menu when in a restaurant, or who find it difficult to make a decision, can seek a personal recommendation from the proprietor. How lucky that a translation for Slovenian delicacies is direct to hand thanks to the Slovenian-German online dictionary – travellers will then know for sure what to expect on their plate when all is said and done. And for those looking to shine with their knowledge of the Slovenian language when in a restaurant, they can familiarise themselves beforehand with the country's typical dishes – and thanks to the read-aloud function in the dictionary from Langenscheidt, perfect pronunciation can also be practised.
On a quest in Slovenian
The people of Slovenia are generally very hospitable and well versed in foreign languages. Given the country's history and the minorities that reside there, children learn English, German and Italian at school – meaning that many Slovenians are even versed in several foreign languages simultaneously. However, when entering rural regions and staring cluelessly at street signs or trying to find the right path when hiking through the low mountain ranges, this will only be of so much use. Quick support is then needed when deciphering Slovenian words and names. And even when Slovenians are quick to reveal their foreign language skills: who wouldn't be thrilled to be greeted politely by visitors in their country's native tongue?
At your desk or on the go
With the free Slovenian-German online dictionary from Langenscheidt, those in search of help will find the right words at any time and in any place – whether via manual entry in the search box or using the index search. Regardless of whether at home, in the office or on the go via smartphone or tablet – simply search for the desired word and instantly receive the translation. This makes the Langenscheidt dictionary ideally suited for professional users such as translators, interpreters or linguistic experts, as well as for pupils, students and beginners. The vocabulary has been compiled and verified by Langenscheidt – and is absolutely reliable. Now nothing can get in the way of you learning the language and building your vocabulary.
About Langenscheidt:
Langenscheidt, a German publisher, is a traditional media company with a broad range of offers concerning languages. In addition to classic print dictionaries, Langenscheidt offers versatile, high-quality digital language products and services in a consistently dual publishing format.