Japanese-German dictionary
Japan: Tradition meets modernity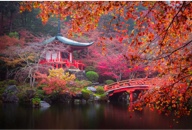 The Japanese language is just as versatile as the country's culture. "Tradition meets modernity" is not just a saying here, it's a living reality. Japan's isolated island status has facilitated the growth of a unique culture, which even today remains firmly established in parts, and of which the Japanese are very proud. The values of the samurai still continue to thrive, and have driven their victorious conquest to Europe, embodied in the variety of martial arts forms like aikido and kendo. Geishas, tea ceremonies and cherry blossom festivals also remain inseparable from Japanese culture and are unsurpassed magnets for tourism. Japan is also synonymous with modernity. Manga, anime and cosplay have found droves of passionate enthusiasts closer to home. And don't forget: Japan is the third largest economic power in the world, and the level of wealth becomes especially, strikingly apparent in the country's metropolitan areas.
Making your way through the jungle of signs and symbols with Langenscheidt
There are therefore more than enough reasons to pay a visit to the land of the rising sun or to simply get to grips a little better with the island nation's culture. The real challenge: the language barrier. Making the switch from Latin script to Japanese signs and symbols isn't always easy. So it's good to know you can rely on competent help with the translation. Because even if Japanese pupils learn English as their first foreign language, the foreign language skills of those in Japan do not always go far enough. This is particularly true in the more rural areas. When leaving Japan's metropolitan areas, tourists will quickly discover that, for example, traffic signs and signs at train stations do not always display Latin script. Therefore, those looking to explore the country are well advised to always have an electronic translator to hand.
But that is by no means a reason not to venture to Nippon – as the Japanese refer to their homeland. Because what would be a more appropriate reason for learning a new language – even if it's just a few basic terms from the Japanese vocabulary? The perfect companion for learning a new language can be found in the Langenscheidt dictionaries, thanks to which you will never be without the right words. The Japanese-German dictionary is also a proven success when preparing for a trip to Japan. By practising a few standard greetings and expressions of politeness, tourists demonstrate that they respect and appreciate the culture of this foreign country. Especially in Japan, where significant emphasis is placed on etiquette, this is something that should not be neglected.
Japanese: not just for tourists
It's not only tourists visiting Japan who might wish to familiarise themselves with the Japanese language. And it's not without good reason that enthusiasm for Japanese culture is sweeping through Europe. And it doesn't matter whether it's about finding the right name for sushi, understanding key martial arts terms or reading a manga in its original form – Japanese words are ubiquitous. Translating them is child's play with the Japanese-German dictionary from Langenscheidt.
Japanese is not least the living expression of a culture, the expressed – in the truest sense of the word – politeness of which is reflected in the simplest customs. Simply being able to appreciate this makes it worthwhile to delve deeper into an understanding of the language.
Learning languages at your desk or on the go
With the free Japanese-German online dictionary from Langenscheidt, those in search of help will find the right words at any time and in any place – whether via manual entry in the search box or using the index search. Regardless of whether at home, in the office or on the go via smartphone or tablet: simply search for the desired word and instantly receive the translation. This makes the Langenscheidt dictionary ideally suited for professional users such as translators, interpreters or linguistic experts, as well as for pupils, students and beginners. The vocabulary has been compiled and verified by Langenscheidt – and is absolutely reliable. Anyone uncertain of how to pronounce a specific word can simply have this word read out loud. Now nothing can get in the way of you learning the language and building your vocabulary.
About Langenscheidt:
Langenscheidt, a German publisher, is a traditional media company with a broad range of offers concerning languages. In addition to classic print dictionaries, Langenscheidt offers versatile, high-quality digital language products and services in a consistently dual publishing format.