English-German dictionary
Correct translation from English to German available at the click of a mouse: in the online English-German dictionary from Langenscheidt.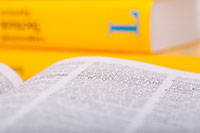 For most Germans, English is a foreign language that they first learn at school. At work, it has become increasingly hard to get by without English language skills. English technical terms, in particular, have been integrated into the German language. Today, English is spoken by approximately 340 million native speakers. It is estimated that some 200 million to over 1 billion people have English as a second language. One of the reasons for this is that English is the most widely used official language in the world today. German is the most widely spoken native language in the European Union.
Translate the easy way: search the English-German dictionary alphabetically
The online German-English dictionary includes British and American English as well as Austrian and Swiss German terms. Moreover, it contains additional information such as examples of use, typical word combinations, word-sense disambiguation for words with multiple meanings, as well as grammar and style information. As a result, learning a language becomes easy.

The comprehensive online dictionary from Langenscheidt is available for free to all users and visitors of this website. To translate a German word into English, just type it into the search box to generate a list of possible English translations. Alternatively, you can enter English words to find the correct German translation. Use the drop-down menu to search not only the English-German dictionary, but all online dictionaries.

Whether on a smartphone, tablet or PC, the Langenscheidt online dictionary can be used to search for the right term in various languages and across a number of dictionaries simultaneously. The online dictionary is an excellent choice for pupils, students, interpreters, translators, language professionals and specialists in various fields of expertise: fast, intuitive and reliable, because the dictionary is from a specialist in the language learning field.

Users can look up all the available English-German translations in the English-German dictionary. To do this, select the first letter of the word from the alphabetical list. Once you find the relevant term, click on it to go directly to its translation in the English-German dictionary.

The dictionary includes both old and new spellings. With this comprehensive tool, looking up a term is a pleasure, and the correct translation is just one click away.

Why use the English-German online dictionary from Langenscheidt to learn a new language?
In a globalised world, comprehensive language skills are gaining in importance. The online dictionary from Langenscheidt is an excellent choice for anyone wishing to learn a new language. It can help learners to expand their vocabulary and find the right German or English translation. Our dictionary also offers additional important features to support the language learning process.

The English-German dictionary from Langenscheidt is available immediately to support users in learning a new language - whether after language class or when self-studying languages at home. As a result, users can learn new words and phrases easily and effectively and continuously improve their knowledge of English.
About Langenscheidt
Langenscheidt Verlag is a traditional media company offering a wide range of products and services in the field of languages. As a publishing house, Langenscheidt has always been known for diversifying its portfolio of products and, in addition to traditional print dictionaries, offering a broad range of high-quality digital language products and services.
Learn languages the easy way
For over 150 years as a language specialist, Langenscheidt has been guiding people throughout the process of learning new languages. The groundbreaking invention by the founder of the publishing house, Gustav Langenscheidt (1832-1895), laid the foundations for future success: together with his language teacher, Charles Touissant, in 1856 he developed an innovative phonetic system, the purpose of which was to make learning languages easier. Having developed the first self-study/correspondence method for learning the French language, the publishing house got off to a good start.