Swedish-German dictionary
German: a key language to learn in Sweden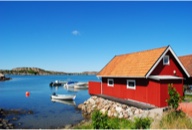 German is a very attractive language to learn in Sweden: Germany and the other major German speaking countries are privileged business partners of Sweden. As such, a Swede with a good command of the German language will be able to climb the career ladder faster than other colleagues. You should not let the harsh sounding aspect of German put you off. The more you listen to German, the more you will learn to appreciate the subtleness of its intonations. German grammar might be a bit more challenging than what you are used to seeing, but with the help of a good Swedish-German dictionary and thorough learning, you will shine in no time.
A Langenscheidt Swedish-German dictionary is a lifetime companion
With this dictionary, originally based on the Swedish Pocket Dictionary, Langenscheidt offers an updated revision with over 220,000 keywords, phrases and translations. It is a modern and practical reference book that offers much more than the basic vocabulary of common Swedish-German words you need for your everyday life. The general vocabulary is complemented by many items from domains such as academia, environment, culture, accountings and sports. Through a variety of explanatory notes, by abbreviations for subjects and levels of style and grammatical information, users are always shown the right translation for their needs.
No matter where you are, your German-Swedish dictionary is here
Whether on a desktop, mobile phone or tablet, the free online dictionary allows you to translate words in both directions. It is an excellent product not only for professional users such as translators, interpreters and linguists, but also for students. The dictionary has been written and tested by the leading dictionary publisher Langenscheidt, which is a token of reliability. Now nothing stands in the way of you learning a new language or improving your Swedish vocabulary.
The German-Swedish dictionary is ideal for German learning
Learning German is a rather easy task for Swedes. They will find German to be a sister language to their language and assimilating new German words is not a problem most of the time. Still, there are some subtleties about German that will demand you to double-check with the help of a Swedish -German dictionary whether the spelling of a German word is correct. Especially fused words, sometimes bound by an s, sometimes by an n, sometimes simply stuck together: Such occurrences are rather challenging for German learners.
About Langenscheidt:
As the number one publisher of dictionaries and the market leader in the field of language learning, Langenscheidt offers a wide range of premium quality language products and provides cross-media and mobile access to a world of over 35 languages tailored to personal needs. The "language learning," "lexicography," and "playful learning" sections zoom in on innovative products such as intuitive language courses for self-learners, which can be adjusted to what they exactly need, as well as dictionaries in online or offline versions.
Browsing the Swedish-German dictionary by letter
Are you trying to find the translation for Swedish terms, but are unable to remember the right spelling? Here you can search the Swedish-German dictionary directly. Pick a letter below to browse a complete alphabetical list of Swedish words and phrases.
Browsing the German-Swedish dictionary by letter
Navigate and browse the German-Swedish dictionary manually using the letters below. You can see all matching Swedish translations, synonyms and phrases in the German-Swedish dictionary simply by clicking a German word from the list.