Russian-German dictionary
A Russian German dictionary to walk you through your linguistic journey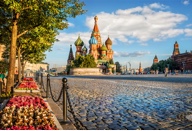 German is the third foreign language taught in Russia, after English and French. The major concern to Russian speakers is that German is a language of grammar. German counts numerous grammar rules, with three possible genders, four declension cases, rather irregular plural forms, extensive conjugation tenses, etc. Yet picking German at school is a smart choice for most Russians who will engage is the domains of business, psychology, international law or politics. Having some notions of Germans will open many doors and enhance your professional career. Should you choose to become a translator or an interpreter, then German is definitely a top choice. There are many publications from Germany that are imported to the Russian-speaking market. Not only in the area of literature, but also regarding reports, analysis, business documents, patents, and many more. You will never be out of work!
Nothing is like the Langenscheidt Russian-German dictionary
The latest version of our Russian-German dictionary offers about 230,000 words, phrases and translations and of course not only general vocabulary of modern Russian. We also include many important terms in the fields of culture, science, technology, business, politics and sport.On top of that, many neologisms also a large number of words and phrases from the everyday language and vulgarisms were taken into account.Choosing the right translation is facilitated by various lexical means. The present data is the result of years of activities author Stanislaw Walewski and Prof. Dr. Erwin Wedel.
The benefits of the Russian language
Russian is a popular language and not only within Russia! It is a major second language, still very popular in Eastern Europe because of the many similarities it shares with, for instance, Polish or Czech. On a worldwide level, Russian is still a language that is very much in demand and taught in first-class universities in Paris, London or New York. The Russian language is more than ever a popular choice and Russian literature will take good care of this.
At home or on the go, you can always access your Russian-German dictionary
Langenscheidt has put together its years of experience and linguistic knowledge to make the best online dictionaries they can and make them available to all Russian speakers and Russian learners, no matter where they are. The dictionaries can be accessed on desktop, as well as on tablet or mobile. Thanks to our responsive design, the Russian-German dictionary can be used easily, even when traveling or commuting. Langenscheidt meets this demand by offering a number of language learning apps for every occasion and platform - vocabulary, grammar trainers or interactive language courses when on-the-go. The focus is on ever smarter language courses for self-learners that can be tailored to their specific needs. Users have access to a comprehensive digital online dictionary at langenscheidt.com Online and offline media are offered here side by side.
Langenscheidt - the number one German dictionary
Langenscheidt Verlag is a traditional media company offering a wide range of products and services in the field of languages. As a publishing house, Langenscheidt has always been known for diversifying its portfolio of products and, in addition to traditional print dictionaries, offering a broad range of high-quality digital language products and services.
Search the Russian-German dictionary by letter
If you use the letters listed below, you can manually click through the Russian-German dictionary, and a complete list of all Russian words will be displayed. To see the relevant German translations and the associated synonyms, you simply need to click on a word.