Icelandic-German dictionary
The Northern Lights of Europe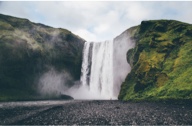 Iceland: Wonderful landscapes, unpronounceable volcanoes (Eyjafjallajökull is probably the most well-known) and very few foreign words. The inhabitants of this sparsely populated European country are anxious to preserve their language. Consequently, the Icelanders create new terms for modern words: The word for computer, for example, is tölva, a blend of the word tala for number and völva for fortune teller. Since 1964, a committee for the Icelandic language (Íslensk málnefnd) monitors the relationship between specially created words and borrowed words.
Icelandic has 32 letters. As well as those we know in the Latin alphabet, there are also Á / á, Ð / ð, É / é, Í / í, Ó / ó, Ú / ú, Ý / ý, Þ / þ, Æ / æ and Ö / ö.
Idyllic open spaces
In terms of area, Iceland is the second largest island country after Great Britain in Europe and the main island is the largest volcanic island in the world. The country, with its capital city Reykjavík, is a popular place for shooting films. Be it Star Wars, James Bond or Game of Thrones, the breath-taking backdrops of the Icelandic fjords, waterfalls and glaciers don't just cast a spell on tourists.
As you can imagine, Icelanders love it when you can come up with a few words from the indo-Germanic language. With us, you can translate about 25,000 key words. Get started and get ready for your next stay in Iceland!
Langenscheidt: Because languages connect
Langenscheidt, a German publisher, is a traditional media company with a broad range of offers concerning languages. Thanks to our cross-media alignment, we offer versatile and high-quality digital language products and services both online and offline, in addition to the classic print dictionaries.
The cornerstone was laid by a ground-breaking invention by the publisher's founder, Gustav Langenscheidt, more than 150 years ago: Collaborating with his language teacher Charles Touissant, he developed an innovative phonetic transcription method. Learning languages would now become easier for everyone. The publisher made a successful start in 1856 with its first self-learning course for French.