German-Turkish dictionary
German-Turkish: the most important words at a glance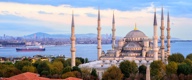 Merhaba! This is Turkish for "Hello!". Welcome to learning Turkish. And to make sure that all goes well, you can look up any unknown words in our German-Turkish dictionary at any time online. Looking up Turkish words hasn't always been so easy. Because there was a time when Turkish was still written with Arabic lettering: such beautiful calligraphic lettering. But this changed in 1928 when Atatürk introduced Latin script. Today, this makes it easier for us to read and write in Turkish. Since the Republic of Turkey was founded in 1923, Turkish has been the country's official language. The standard language is based on the Istanbul dialect. Turkish originally belonged to a group of Turkic languages. These Turkic peoples were native to the region between the Khangai and Altai Mountains in Asia.
Today, Turkish is spoken by approximately 80 million people. And even in Germany, there is the possibility to put your language skills to practical use, because the country is home to over 2 million people who speak Turkish.
Particularities of the Turkish language
Turkish is an agglutinative language. This is a grammatical function and means that a suffix is added to the end of the word to change its meaning. This means that, for example, a small word like "evdeyim" is already, in actuality, a whole sentence and means: I am home. This is because the suffix "-de" for the description of location and the suffix denoting the person "-yim" is added to the end of the basic meaning of "ev = house". This allows for whole sentences to be formed with just a few letters.
It is equally exciting to note that Turkish is a language that employs vowel harmony. Because in an original Turkish word there are either back vowels such as a, o, u, and ı or front vowels such as e, i, ö, ü – which makes it very easy to determine whether the word really originates from Turkish or whether it is taken from Arabic – because then it deviates from this pattern.
The Langenscheidt German-Turkish dictionary
This dictionary offers many keywords and phrases from everyday Turkish and German. This makes learning Turkish easy, because the vocabulary is current and many idiomatic and colloquial phrases can be found. This helps to ensure that you have the right word to hand in every situation. The phonetics and the pronunciation guide show what the correct pronunciation of the Turkish word is. And then it's just a matter of communicating, listening and understanding. Then your own language success is just around the corner.
Look up words in the online dictionary at your desk, in the office or on the go
Whether on the computer or using a smartphone or tablet on the go – with the free German-Turkish online dictionary, the desired expression can be reliably translated into both languages. In the comfort of your own home or even while out and about. It is ideally suited for professional users such as translators, interpreters or linguistic experts, as well as for pupils, students and beginners. The vocabulary has been compiled and verified by the top dictionary publisher – Langenscheidt – and is absolutely reliable. Now nothing can get in the way of you learning Turkish and building your vocabulary.
About Langenscheidt:
Langenscheidt, a German publisher, is a traditional media company with a broad range of language offers. From world-class dictionaries through to language trainers for over 30 languages, the turquoise L on the yellow background stands for efficient, straightforward and fast language learning. In addition to classic print dictionaries, Langenscheidt offers versatile, high-quality digital language products and services in a consistently dual publishing format.