German-Swedish dictionary
Swedish is so much more than a language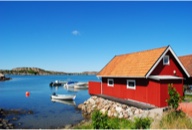 One of the most striking features of the Swedish language when you open a German-Swedish dictionary is the uncanny similarities between the two languages. Swedish and German both belong to the Germanic language family. Swedish is a rather uncomplicated language to learn, as long as you have your Langenscheidt German-Swedish dictionary with you, you should come by without any troubles. To put it simply, Swedish is a simplified version of German, at least from a grammatical perspective. Swedish will not torture you with numerous case declensions, verb conjugations or too many irregular plurals. One of the best things about learning Swedish is that it opens many language doors: from Swedish, learning Norwegian or Danish will be a piece of cake. Swedish is the most important Scandinavian language and you should always have your Swedish dictionary at reach. Swedish is also a major second language in Finland.
The Langenscheidt German-Swedish dictionary is a must-have tool
With this dictionary, originally based on the Swedish Pocket Dictionary, Langenscheidt introduces an updated revision with 220,000 keywords, phrases and translations. It is a modern and handy reference book that offers much more than the basic vocabulary of the Swedish and German daily words. The general vocabulary is complemented by many items from areas: such as politics, economy, culture, technology and sports. Through a variety of explanatory notes, by abbreviations for subjects and levels of style and grammatical information, users are always taken to the correct translation.
Wherever, whenever - check your Swedish dictionary!
Whether you are at home, working on a Swedish translation project or at university studying Swedish for your next exam, the German-Swedish dictionary is only a click away. You can easily check the Langenscheidt Swedish dictionary on your desktop computer. If you would rather check the dictionary on your tablet or your mobile phone, feel free to do so. Our language products are responsive and very simple to browse through, no matter how big or small your device is.
About Langenscheidt:
As the number one publisher of dictionaries and the market leader in the field of language learning, Langenscheidt offers a wide range of premium quality language products and provides cross-media and mobile access to a world of over 35 languages tailored to personal needs. The "language learning," "lexicography," and "playful learning" sections zoom in on innovative products such as intuitive language courses for self-learners, which can be adjusted to what they exactly need, as well as dictionaries in online or offline versions.
Learning Swedish is fun
Swedish is a beautiful language with a peculiar melody: Swedish words have two tonic stresses, a strong and a weak one. This feels like singing when you speak Swedish but it is one of the most enjoyable aspects of the learning process. You will notice in your Swedish dictionary that there are three special characters used in Swedish: ä and ö should be familiar to you, whereas å is letter that you might be encountering for the first time. It sounds like a long "o".
Browsing the German-Swedish dictionary by letter
Navigate and browse the German-Swedish dictionary manually using the letters below. You can see all matching Swedish translations, synonyms and phrases in the German-Swedish dictionary simply by clicking a German word from the list.