German-Spanish dictionary
Why learn Spanish?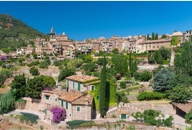 Today, over 3.1 million Europeans are learning the Spanish language, and both their learning levels and numbers have been steadily rising. To learn a new language, it is essential to have a dictionary at hand. With immediate effect, the extensive German-Spanish online dictionary from Langenscheidt is available for free to all users and visitors of this website. Whether on a smartphone, tablet or PC, the free German-Spanish online dictionary can be used to look up the correct term or phrase quickly, reliably and intuitively because it has been provided by a specialist in the language learning field.
Having a user-friendly dictionary at hand makes it easier to learn a new language
Learning a new language is a bit of a challenge. It is therefore, all the more important to have a good dictionary at hand. Users can look up all the available German-Spanish translations in the German-Spanish dictionary. In order to do this, you have to select the first letter of the term being searched for from the alphabetical list. Thanks to the electronic linking of the content, translations of the search terms and phrases can be looked up quickly and easily with just one click. The online dictionary also contains additional information such as examples of use, typical word combinations, word sense disambiguation for words with multiple meanings, as well as grammar and style information, such as Latin American variants. As a result, learning a language becomes easy.

People are attracted to foreign cultures, places, words or other people. They want to understand and be understood, have cosmopolitan flair and enjoy researching foreign linguistic areas. For professional or personal reasons, you want to be able to say brilliant things in another language or just order a coffee when on holiday. There are many reasons why people want to learn a new language. It is nice to imagine being able to communicate fluently in Spanish. Whether you like it or not, the international communication trend shows no signs of abating. English as a foreign language is the absolute leader in the German-speaking area, but Spanish pushed French from the second spot some years ago.
Learn languages the easy way both online and on-the-go
Today, learning a language means adapting to the life circumstances of people as they become increasingly complex. Irrespective of whether learners study languages for personal or professional reasons, they need tailored, flexible and mobile solutions. Langenscheidt meets this demand by offering a number of language learning apps for every occasion and platform - vocabulary, grammar trainers or interactive language courses when on-the-go. The focus is on ever smarter language courses for self-learners that can be tailored to their specific needs. Users have access to a comprehensive digital online dictionary at langenscheidt.com Online and offline media are offered here side by side.
About Langenscheidt:
As the number one publisher of dictionaries and the book industry's market leader in the field of language learning, Langenscheidt offers a wide range of premium quality language products, providing cross-media and mobile access to a world of over 35 languages tailored to individual needs. The "language learning," "lexicography," and "playful learning" sections focus on innovative products such as the smart language course for self-learners, and "Langenscheidt IQ", which can be tailored to their specific needs, as well as the new pocket dictionary in online and offline versions.
Why use the German-Spanish dictionary to learn Spanish?
In a globalised world, it is becoming increasingly important to speak several languages. The Langenscheidt online dictionary is an excellent tool for learning a new language. It not only helps in finding the right German or Spanish translation, but it also offers additional features to assist learners in understanding and speaking Spanish perfectly. As a result, users can learn new words and phrases easily and effectively and continuously improve their foreign language skills.

The Spanish language, also referred to as the Castilian language, belongs to the Romance branch of the Indo-European language family, which has evolved into a world language. In addition to the 523 million people that are native Spanish speakers, there are some 88 million that speak Spanish as a second language. It is an official language in more than 20 countries as well as in the European Union and the United Nations. Spanish is taught in schools, where it is usually offered as a third language, as well as universities.
Search the German-Spanish dictionary by letter
From the letters below you have the option to manually browse the German-Spanish dictionary from a particular point. To view all the relevant Spanish translations and Spanish synonyms for a German expression or term simply click it to be taken to the fitting page in the German to Spanish dictionary.