German-Slovenian dictionary
Slovenia: rich in discoveries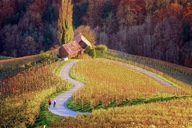 A holiday on the beach, an active holiday in the mountains – or do you prefer a healthy mix of both? Anyone unable to make a decision when planning their next holiday should perhaps consider making the trip to Slovenia. Because even though the country is not particularly big, it can offer an astonishingly broad range of different landscapes. The Adriatic coast, the Limestone Alps, low mountain ranges – Slovenia is one of the most biodiverse nations in Europe. An absolute must for nature enthusiasts and also the home of the famous Lipizzaner horses, which may be familiar to some from the Spanish Riding School of Vienna.
This small country is located in the heart of Europe and borders Italy, Austria, Hungary, Croatia and the Adriatic. In spite of its diversity, it is often neglected by many Europeans when planning their holidays. Or even worse – it's confused with Slovakia. Even though both nations were once part of the Austro-Hungarian monarchy, they do, however, belong to different successor states. Since 1991 and the dissolution of the Republic of Yugoslavia, Slovenia has been an independent state and, as part of the eastern expansion of the EU, has been a member of the European Union since 2004.
Slovenia or Slovakia – the not-too-subtle difference
Slovenians have every right to be proud of their independence. Travellers should endeavour to avoid making the faux pas of incorrectly labelling the country's people as Slovakian. Although admittedly differentiating between the two is sometimes difficult, as shown above all in the names the languages have for themselves: Slovenians refer to their native tongue as slovenščina, Slovakian as slovaščina. Conversely, Slovakians call their own language slovenčina while using the almost identical slovinčina for Slovenian. This short example demonstrates how subtle the differences can be. In order to stay focused when navigating your way through the linguistic jungle, it is worth undertaking a little language training beforehand.
Slovenian in Europe
Anyone who believes that Slovenian is not an established language, given the limited size of the country, is wrong. Because it is not just in Slovenia itself but also in other European nations that Slovenians are established as cultural minorities who continue to uphold their tradition and language. For example, Austria is included here, given the shared history (above all in Carinthia). Here, Slovenian influences become apparent in traditional cuisine or folklore celebrations. But even in Italy or western Hungary, Slovenian is the native tongue for parts of the population.
The German-Slovenian online dictionary from Langenscheidt is an indispensable help in providing a quick overview of the foreign language. This then allows for potential linguistic hurdles to be dealt with before starting a journey. And simply by learning a few greetings and expressions of politeness, you are showing an interest in the foreign culture. Local people will certainly appreciate this, even if the pronunciation isn't quite perfect. The same applies to town names: Because even though, for historical reasons, German names exist for Slovenian towns – including Laibach for Ljubljana or Marburg an der Drau for Maribor – it is a sign of respect vis-a-vis the foreign culture to use local names.
Straightforward searching on the move and online
Speaking of pronunciation: This is relatively easy to get to grips with in Slovenian, and is similar to that of Italian or Latin. Searching for terms is also easy: Enter the desired word into the search bar or use the index search function. No matter whether in your home, at your desk or on the go – with the German-Slovenian dictionary, language learners will find the right words at any time. This makes the Langenscheidt dictionary ideally suited for professional users such as translators, interpreters or linguistic experts, as well as for pupils, students and beginners. The vocabulary has been compiled and verified by Langenscheidt – and is absolutely reliable. Now nothing can get in the way of you learning the language and building your vocabulary.
About Langenscheidt:
Langenscheidt, a German publisher, is a traditional media company with a broad range of offers concerning languages. In addition to classic print dictionaries, Langenscheidt offers versatile, high-quality digital language products and services in a consistently dual publishing format.