German-Russian dictionary
The German-Russian dictionary brought to you by Langenscheidt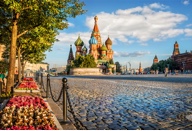 Russian is a popular language to learn that yet suffers from its reputation of being a challenging language to master. Surprisingly enough, it is easier to learn this language than you might think. The first step is to learn to identify the Russian alphabet: the Cyrillic alphabet. This is a rather easy step and you will derive great pride and satisfaction from it. Deciphering Russian is a great way to impress your friends.
Once you have integrated Russian reading, you will realize that a significant amount of words are similar to German, such as Salon (салон), Absatz (абзац) or even Luft (люфт). Like most Slavic languages, Russian does not have articles as such, the ending and the declension of a word contains this information. This can be slightly unsettling at first, but it should quickly get the hang of it. At an advanced level, Russian is the language of many classical literary geniuses such as Tolstoy, Dostoyevsky or Nabokov.
The Langenscheidt German-Russian dictionary is what you need
The updated Russian-German dictionary offers about 230,000 words, phrases and translations and not only the general vocabulary of modern Russian language. In addition, many important terms in the fields of culture, science, technology, business, politics and sport were considered.On top of many neologisms also a large number of words and phrases from the everyday language and vulgarisms were taken into account.Choosing the right translation is facilitated by various lexical means. The present data is the result of years of activities author Stanislaw Walewski and Prof. Dr. Erwin Wedel.
Learning Russian is a true asset
Russian is one of the most spoken language in the world with over 150 million native speakers and 260 million speakers including non-native speakers. In total, this makes Russian the fifth most spoken language in the world. Russian is obviously an official language in Russia, but also in many countries including Belarus, Kazakhstan, Kyrgyzstan and Tajikistan. As a minority language, Russian is acknowledged in Romania, Finland, Ukraine and as far as Israel. Russian is also one of the six official languages within the United Nations. Learning Russian with the German-Russian dictionary will open many professional doors.
German or Russian? You can find words in our bilingual dictionary
Langenscheidt has put together its years of experience and linguistic knowledge to make the best online dictionaries they can and make them available to all Russian speakers and Russian learners, no matter where they are. The dictionaries can be accessed on desktop, as well as on tablet or mobile. Thanks to our responsive design, the German-Russian dictionary can be used easily, even when traveling or commuting. Any time is a good time to check a Russian word!
Langenscheidt - the number one German dictionary
Langenscheidt Verlag is a traditional media company offering a wide range of products and services in the field of languages. As a publishing house, Langenscheidt has always been known for diversifying its portfolio of products and, in addition to traditional print dictionaries, offering a broad range of high-quality digital language products and services.
Search the German-Russian dictionary by letter
By clicking on the letters displayed below, you can see the Russian words that have already been added to the German-Russian dictionary organized in alphabetical order. If you are unsure of the spelling of a Russian word, you can browse the list of entries to end up on the right page containing the German-Russian translations.