German-Persian dictionary
German-Persian in the online full version
Live now: The new revised online German-Persian dictionary with full search functionality. Due to the high level of demand for a German-Persian dictionary, we have until recently provided a BETA version with restricted search options on this site. In the meantime, we have fully digitised the dictionary and are pleased to offer it here as a complete online dictionary in both language directions.
Persian - also known as Farsi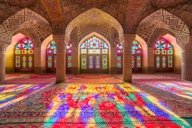 To the untrained eye it closely resembles the Arabic script... with a lot of exotic characters and, on top of that, the reverse writing direction: here you read from right to left! Persian is spoken mainly in Central and Southwest Asia. It is an Indo-European language. Persian is the official language of Iran, Afghanistan and Tajikistan. Approx. 65 million people speak Persian as their native language. Most of them live in Iran, Afghanistan, Tajikistan and Uzbekistan. And why is Persian sometimes called Farsi? Farsi is the Iranian name for Persian. In Afghanistan and Pakistan, on the other hand, it is called Dari.
The Persian alphabet
Persian and Arabic are unrelated: Persian is an Indo-European language, whereas Arabic is a Semitic language of the Afro-Asiatic family. And yet, the Arabic script has been used since the Islamisation of Persia. Although the alphabet has been extended by four letters.
The Langenscheidt German-Persian dictionary
This dictionary offers roughly 25,000 keywords and phrases from everyday Persian and German. For German users, the details of correct pronunciation are particularly useful: Both the Persian keywords and their translations in the German-Persian section come with their Latin transliteration. In this way, users who don't know the Persian script can also use this dictionary. The most idiomatic and colloquial expressions from both languages have also been included. Notes on subject areas and stylistic levels make it easier to locate the appropriate translation.
Check your online dictionary at your desk, in the office or on the go
Wherever you use it - on your desktop or on your smartphone or tablet when you're out and about - with the free online dictionary the desired expression can be translated in both directions. It is ideally suited for professionals, such as translators, interpreters and language experts, as well as learners and students. The vocabulary has been compiled and tested by the number one publisher of dictionaries - Langenscheidt – and it is, therefore, a dictionary you can trust to learn the language and expand your vocabulary.
About Langenscheidt:
The Langenscheidt publishing house is a long-established media company with a wide range of products in the languages field. With its consistently dual approach to publishing, Langenscheidt offers a diverse range of high-quality digital language products and services in addition to its classic printed dictionaries.