German-Norwegian dictionary
Up in the far north!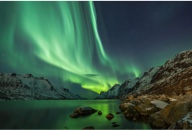 Whether by a calm lake with the local summer house neighbours or on an outing onto the breath-taking viewing roof on the Oslo opera – have a go at talking in Norwegian on your next Norwegian trip!
The German-Norwegian Langenscheidt Online Dictionary offers suitable and up-to-date vocabulary for leisure and travel in proven Langenscheidt quality with around 15,000 key words and example sentences. It also includes expressions and idioms; you will find them under the first meaningful element of the expression: "es geht mir gut" and "so gut wie" can therefore be found under "gut".
The Norwegian language variant "bokmål"
In Norwegian, nouns have three genders: feminine, masculine and neuter. In the language variant "bokmål", which is used the most – just like in this dictionary –, all feminine nouns can also optionally be masculine. This fact is taken into account in the Norwegian translations with the entry "m/f".
At home or on the go – always with you
No matter whether at home or on the go – the German-Norwegian online dictionary from Langenscheidt is always with you. Whether it's on a smartphone, tablet or desktop computer, its users have fast and intuitive access to the German terms and their Norwegian translations.
The desired term can be looked up either by entering it into the search box or via an alphabetical search. Here, by selecting the first letter in an alphabetical list, the complete list of all German words and phrases beginning with this letter is displayed. This can be scrolled through – the Norwegian translation is shown by clicking on the German word. The umlauts ä, ö, ü are treated alphabetically like a, o, u: "träumen" comes after "Traum" and before "traumhaft", as if the ä were an a.
Langenscheidt: Because languages connect
Langenscheidt, a German publisher, is a traditional media company with a broad range of offers concerning languages. Thanks to our cross-media alignment, we offer versatile and high-quality digital language products and services both online and offline, in addition to the classic print dictionaries.

The cornerstone was laid by a ground-breaking invention by the publisher's founder, Gustav Langenscheidt, more than 150 years ago: Collaborating with his language teacher Charles Touissant, he developed an innovative phonetic transcription method. Learning languages would now become easier for everyone. The publisher made a successful start in 1856 with its first self-learning course for French.