German-Japanese dictionary
Japan: well worth a visit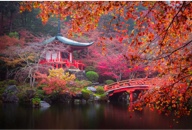 Japan unquestionably belongs on every globetrotter's must-see list. There is so much to discover both linguistically and culturally on the world's fourth-largest island nation and its approximately 7,000 islands. Japan is, for example, one of the last remaining empires in the world. "平成" (pronounced: Heisei) is how Emperor Akihito referred to his reign, or: "Peace everywhere". When taking in the Japanese landscape in places such as Kyoto, you can only feel wholehearted agreement. Japan is a paradise for nature enthusiasts as well as mountaineers and hikers. Mount Fuji, a volcano and also Japan's highest mountain, is particularly popular. For those returning hungry from their mountain climb, the land of the rising sun has the next highlight right to hand: its cuisine. Rice, seafood, sushi, pickled vegetables – the Japanese are famous for their health and longevity thanks to the light and healthy cuisine they enjoy.
Discovering Japanese with Langenscheidt
There are therefore more than enough reasons to pay a visit to Nippon – as Japan is referred to in its native tongue – or to simply get to grips a little better with the island nation's culture. The real challenge: the language barrier. Because even if Japanese pupils learn English as their first foreign language, the foreign language skills of those in Japan do not always go far enough. This is particularly true in the more rural areas. Anyone looking to order a latte in English will soon come up against a number of barriers. Having fast, competent translation assistance to hand is a boon. An electronic translator like the German-Japanese online dictionary from Langenscheidt is the ideal companion for a trip to Japan.
Let's talk business
Speaking of coffee – it's certainly also one of the most important terms in the business world, above all in the land of the rising sun. Japan is one of the biggest industrial powers in the world. Approximately 1.5 million people make their way through Tokyo everyday – twice as many people who actually live in the city. These include many international businessmen and women. These individuals in particular probably understand how much value the Japanese place on etiquette. This is something that should not be neglected when looking to make a success of your business contacts. Anyone who endeavours to familiarise themselves on foreign soil with the regional particularities, and even makes an effort to learn the typical acts of courtesy before their appointment, are implicitly signalling to their counterpart their appreciation of the foreign country's culture. What could be a better start for a successful conversation?
Japanese: not just in Japan
But it's not just the Japanese who are rightly fans of their own culture – Japanese traditions and modern influences such as manga, cosplay or sushi are drawing in more and more enthusiasts in Europe too. And it simply does not matter whether it happens out of cultural interest, or because of efforts to build on Japanese business contacts or to read a Japanese manga in the original – interest in Japanese as a language is growing everywhere, the translation of which is child's play with the German-Japanese dictionary from Langenscheidt.
Japanese is not least the living expression of a culture, the expressed – in the truest sense of the word – politeness of which is reflected in the simplest customs. Simply being able to appreciate this makes it worthwhile to delve deeper into an understanding of the language.
At your desk or on the go
With the free German-Japanese online dictionary from Langenscheidt, those in search of help will find the right words at any time and in any place – whether via manual entry in the search box or using the index search. Regardless of whether at home, in the office or on the go via smartphone or tablet – simply search for the desired word and instantly receive the translation. This makes the Langenscheidt dictionary ideally suited for professional users such as translators, interpreters or linguistic experts, as well as for pupils, students and beginners. The vocabulary has been compiled and verified by Langenscheidt – and is absolutely reliable. Anyone uncertain of how to pronounce a specific word can simply have this word read out loud. Now nothing can get in the way of you learning the language and building your vocabulary.
About Langenscheidt:
Langenscheidt, a German publisher, is a traditional media company with a broad range of offers concerning languages. In addition to classic print dictionaries, Langenscheidt offers versatile, high-quality digital language products and services in a consistently dual publishing format.