German-Italian dictionary
Italian not just for the holiday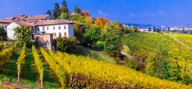 Foreign language enthusiasts take note: soon you will be able to look up Italian or German terms on this website. The new online German-Italian dictionary can be used to translate words and phrases quickly in both directions. Use the drop-down menu to search not only the German-Italian dictionary, but all online dictionaries.

Italian is a Romance language and is also regarded by many to be one of the most romantic languages. This may at least in part be due to the fact that the most famous lovers of the world literature, Romeo and Juliet, were most likely to have sworn their undying love in Italian since the story reputedly took place in the Italian city of Verona. As demonstrated by the great Italian composers, from Verdi and Puccini through to Lucio Battisti, Italian is also a very musical language. Those who learn Italian today often already have some basic knowledge of pronunciation, thanks to some tasty Italian exports such as spaghetti or gnocchi.
Quick reference source to learn languages the easy way
The online German-English dictionary includes up-to-the minute vocabulary from the fields of business, communication, politics and everyday life. The dictionary includes both old and new spellings. In order to assist in finding the right word, the online dictionary contains examples of use, typical word combinations, word sense disambiguation for words with multiple meanings, as well as grammar and style information. As a result, learning a language becomes easy and the correct translation is just one click away.

The German-Italian online dictionary is an excellent choice for anyone that wants to learn languages quickly and efficiently. It is ideal as a quick reference source, leading directly to the searched term. In both directions, you can either enter the term or search alphabetically. To do this, select the first letter of the search term from the alphabetical list of the German-Italian dictionary. Once you find the relevant term, click on it to go directly to its translation in the German-Italian Dictionary.
Foreign languages for success
The importance of learning a foreign language is indisputable. Comprehensive language skills are very important in a globalised world and pave the way for professional success. Learning English as a second language has long become a top priority. Ideally, this should be complemented by another language such as Italian.
Reliable dictionary as an effective reference and learning tool
Whether on a smartphone, tablet or PC, the free German-Italian online dictionary allows terms to be translated in both directions. It is an excellent solution not only for professional users such as translators, interpreters and linguists, but also for students. The dictionary has been compiled and tested by the leading dictionary publisher Langenscheidt, which is a guarantee of reliability. Now nothing stands in the way of you learning a new language or improving your vocabulary.
About Langenscheidt:
As the number one publisher of dictionaries and the market leader in the field of language learning, Langenscheidt offers a wide range of premium quality language products and provides cross-media and mobile access to a world of over 35 languages tailored to individual needs. The "language learning," "lexicography," and "playful learning" sections focus on innovative products such as smart language courses for self-learners, which can be tailored to their specific needs, as well as dictionaries in online and offline versions.
The basic principle applied by Langenscheidt is still relevant today as it was 150 years ago
Language learning should be easy, effective and produce lasting results. This basic principle has been systematically implemented throughout Langenscheidt's entire publishing programme: playful language learning products help children take the first steps into a new language. Dictionaries, language textbooks, self-learning materials and language courses can be brought by people to school, university, work, and to home and abroad. From learning products for children to highly specialised terminology for adults, Langenscheidt develops tailored and innovative solutions for different target groups.
Search the German-Italian dictionary by letter
If you are unsure of the word you want to translate you can browse the German-Italian dictionary. Use the letters to see all the words in the German-Italian dictionary starting with your selected letter. When you find what you were looking for, clicking that word will show you all Italian translations and matching Italian synonyms in our dictionary.