German-Icelandic dictionary
Learn Icelandic with Langenscheidt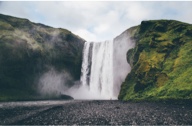 Even though Icelandic is an Indo-Germanic language, and is therefore related to the German language, mastering it is certainly not to be underestimated. The language developed from Old Icelandic, which again differs little from Old Norwegian. This is due to the fact that most settlers who came to Iceland originally came from Norway. In comparison to the 'mainland languages' of Scandinavia, Iceland's island isolation has meant that the morphology of the Icelandic language has evolved very little over the past centuries.
A committee to preserve the language
Around 300,000 people currently speak Icelandic. The committee for the Icelandic language Íslensk málnefnd is responsible for finding new Icelandic words for new words that previously didn't exist in the language (for example, computer or mobile phone). This is supposed to ensure that the language is preserved.
Always worth a trip
Iceland's legendary landscape sets the hearts of nature lovers racing. Nowhere else can you see the Northern lights light up so beautifully over the wide fjords and glaciers. Relax for a while in the hot geysers and go in search of elves and trolls in Europe's North Western! Here, we provide you with exactly the right vocabulary to communicate with the locals.
Langenscheidt: Because languages connect
Langenscheidt, a German publisher, is a traditional media company with a broad range of offers concerning languages. Thanks to our cross-media alignment, we offer versatile and high-quality digital language products and services both online and offline, in addition to the classic print dictionaries.
The cornerstone was laid by a ground-breaking invention by the publisher's founder, Gustav Langenscheidt, more than 150 years ago: Collaborating with his language teacher Charles Touissant, he developed an innovative phonetic transcription method. Learning languages would now become easier for everyone. The publisher made a successful start in 1856 with its first self-learning course for French.