German-Hungarian dictionary
Hungary – the country of Pörkölt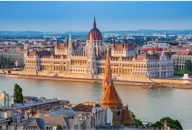 Pörkölt? Presumably very few of you have heard this word before. This is due to the fact that this dish is often incorrectly labelled as goulash in German-speaking regions – for many, a symbol of Hungarian cuisine. Hungarians are particularly proud of their national dish; but of course, Hungary has more than just one tasty treat to offer: Goulash soup (the German name in this case is correct), Lángos, plenty of ground paprika, Esterházy torte and, not to forget the most famous Hungarian dessert, the Dobos torte. Even Andy Warhol was so keen on the eight-layer dream made of biscuit and chocolate cream that he immortalised it as the "Torte a la Dobosch" in his work "Wild Raspberries".
Delve into Hungarian culture with Langenscheidt
Aside from cuisine, Hungary has a lot to offer. It is also a country of diverse culture. The famous Rubik's cube has its roots here thanks to the Hungarian inventor Ernő Rubik. The ballpoint pen? Also the invention of two Hungarian brothers bearing the surname Biró. And we can't forget director Michael Curtiz a.k.a. Mihály Kertész from Budapest – what would the world be without the classic film Casablanca? The oldest and greatest porcelain manufacturer in Hungary, Herend, sells its world-famous products to prominent figures including Queen Elizabeth II, the emeritus Pope Benedict XVI, the Emperor of Japan, William and Kate and many more. Numerous museums and galleries provide plenty of variety and make every city excursion or family holiday a real experience. In addition to all the culture on offer, families on holiday in Hungary get so much more than their money's worth, for example at the Aquarena Water Park or Vidám Park – both are situated close to Budapest.
As you can see, there are countless reasons to pay a visit to the country located in East-Central Europe's Carpathian Basin. And what could be better than finding out from locals about their own culture? Depending on the region, communication can, however, prove to be difficult due to an absence of English language skills. Having fast, competent translation assistance to hand is a boon. An electronic translator like the German-Hungarian online dictionary from Langenscheidt is the ideal companion here.
Hungarian: a challenge in itself
Learning Hungarian is by no means easy. This special, unique language is a Finno-Ugric derivation and, with 35 cases, one of the most difficult languages in the world. Friedrich Dürrenmatt was convinced that Portuguese and Hungarian were the most difficult languages in Europe. He was of the opinion that Hungarian was so complex that even the Portuguese wouldn't understand a single word. So, those looking to take up the challenge won't just make a big impression, they have every right to be proud of themselves. And getting started takes no time at all with the trusty electronic translator. Thanks to the German-Hungarian dictionary from Langenscheidt, translating is child's play – even if it's just a few basic terms from the Hungarian vocabulary.
The German-Hungarian translator is extremely helpful, above all when it comes to food – whether it's asking about the best Dobos torte in the city or the way to the famous Café Gerbeaud or ordering a portion of Pörkölt including the customary Tokajer wine. Every Hungarian will be thrilled by your commitment and display of interest.
Tips on using the dictionary
The ‡ symbol is used to denote the grammatical endings of Hungarian words, e.g. for plural forms and adverbs. The ‡ symbol is mostly displayed before a consonant and indicates that the preceding vowel is long.
At your desk or on the go
With the free German-Hungarian online dictionary from Langenscheidt, those in search of help will find the right words at any time and in any place – whether via manual entry in the search box or using the index search. Regardless of whether at home, in the office or on the go via smartphone or tablet – simply search for the desired word and instantly receive the translation. This makes the Langenscheidt dictionary ideally suited for professional users such as translators, interpreters or linguistic experts, as well as for pupils, students and beginners. The vocabulary has been compiled and verified by Langenscheidt – and is absolutely reliable. Now nothing can get in the way of you learning the language and building your vocabulary.
About Langenscheidt
Langenscheidt, a German publisher, is a traditional media company with a broad range of offers concerning languages. In addition to classic print dictionaries, Langenscheidt offers versatile, high-quality digital language products and services in a consistently dual publishing format.