German-Greek dictionary
A Greek dictionary to open the gates to a new language and a new culture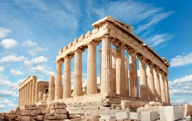 Greek is a language of many challenges for which a mere dictionary is not enough. You will need a high-quality Greek dictionary to meet your needs and find the correct translations. Learning Greek will walk you through the paths of an ancient culture, the cradle of many modern languages. Learning Greek sheds light on the roots and the etymologies of any language. The first step when it comes to learning Greek is to study the Greek alphabet. It will take a lot less time than one might think, as it is a regular alphabet that can be compared to the Roman alphabet. Once you are familiar with the Greek alphabet, you can browse the Greek dictionary and read most words. You might be surprised how many words you already know in a way. Many words derived from Greek sustain in modern languages.
The Langenscheidt German-Greek dictionary comes in handy for many reasons
The dictionary offers around 275,000 keywords, phrases and translations. They extend over the current commonly used Greek and German vocabulary and all major subject areas. Since idiomatic expressions and colloquialisms make a language alive, they are taken into account in this dictionary. References to subjects and stylistic levels make it easier to find the appropriate translation. In addition, Austrian and Swiss expressions are adequately represented.
A Greek dictionary easy to use
Thanks to its responsive design, the Langenscheidt Greek dictionary can be used anywhere. You have a cell phone and need to check a Greek word? Go to the Langenscheidt dictionary. You are sitting on your sofa watching a Greek movie and need to look up a word you do not know? Try our Langenscheidt dictionary. Of course, the Greek dictionary works perfectly fine on a classic computer - desktop or laptop. It is a convenient and free service.
Langenscheidt, what is it?
As the number one publisher of dictionaries and the book industry's market leader in the field of language learning, Langenscheidt offers a wide range of premium quality language products, providing cross-media and mobile access to a world of over 35 languages tailored to individual needs. The "language learning," "lexicography," and "playful learning" sections focus on innovative productsI, which can be tailored to their specific needs, as well as the new pocket dictionary in online and offline versions.
Greek and its eerie aspects
When one hears Greek, one of the first things that comes to mind is the Greek mythology and its numerous myths and legends. The names of the Greek gods and goddesses are still commonly used, along with the heroes and geographical elements. The names of Nemesis, Morpheus or the Styx have become common names. Names such as Gabriel or Agatha also derive from Greek.
How to browse the German-Greek dictionary by letter
Use the letters listed below to manually navigate through the German-Greek dictionary. See all words included in the German to Greek dictionary starting with your selected letter. To view all relevant terms in Greek as well as synonyms click on a word from the list.