German-Dutch dictionary
The charm of the Dutch language to the German ear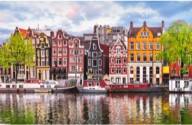 Dutch has a language that is very close to German; hearing Dutch might not feel like it, but upon reading Dutch, you will soon realize that Dutch shares a lot of similarities with German. As such, Dutch is a friendly language and rather easy to learn once you have covered the basic grammatical points. Learning Dutch words with the Langenscheidt dictionary will be a walk in the park and the logic behind fusing two Dutch words together to make a new one is something you already know, at least intuitively.

Apart from the language itself and the pleasure you can derive from learning Dutch, the Netherlands is a treasured destination to many tourists from Europe and even worldwide. The Dutch capital, Amsterdam, is a bustling city with canals and bridges everywhere which makes the city so particular and attractive. Learning Dutch will give you a full insight of Amsterdam's lifestyle, even if most Dutchmen and Dutchwomen are happy to interact with visitors in a foreign language. The Netherlands is also the country of windmills and tulips. If you are tired of the city life, you can enjoy the Dutch countryside and have a stroll by bike along the dams and sluices of the Dutch landscape.
The Langenscheidt German-Dutch dictionary: a gateway to the Dutch language
With this version of the Dutch dictionary, Langenscheidt presents an updated revision with 240,000 keywords, phrases and translations. It is a modern and handy reference book that offers much more than the basic vocabulary of Dutch and German ordinary words. The general vocabulary is complemented by many items from areas such as politics, economy, culture, art and sport, which today constantly meet the users. The choice of processing in these newly accepted words was carried out with great care and carried out with computer assistance by matching with a large Dutch text corpus. Among the relevant new word formations of recent years that have been added to the dictionary, let us mention apenstaartje, applicatiesoftware, babbelbox, facebooken, levenscyclusanalyse, omzetcijfers, verhufteren, zoekfunctie; globale Erwärmung, Lkw-Maut, Spamfilter, Systemsteuerung, twittern®. Through a variety of explanatory notes, abbreviations for subjects, levels of style, and with valuable information on the use of prepositions and cases, users are always led to the correct translation.
It's never been so easy to check a Dutch term on the go
Langenscheidt has put together its years of experience and linguistic knowledge to make the best online dictionaries they can and make them available to all Dutch speakers and Dutch learners, no matter where they are. The dictionaries can be accessed on desktop, as well as on tablet or mobile. Thanks to our responsive design, the German-Dutch dictionary can be used easily, even when traveling or commuting. Any time is a good time to check a Dutch word!
Learning Dutch is more of an asset that one might think
Dutch is - rather unfairly - often left out from the main European languages to learn, ranking behind Spanish, Italian, or even French. Yet learning Dutch will give you some unique linguistic knowledge, putting you at a distinct advantageous place when it comes to business opportunities. The Netherlands is one of Germany's preferred business partners and having a good Dutch dictionary will definitely enhance your professional relationships.
Langenscheidt - an innovative outlook on languages
Over a century ago, Langenscheidt was already on the cutting-edge of language technology and the possibilities of developing the use of foreign languages. It all started with the use of gramophones in the 1900s, replaced by audio tapes in the mid-20th century, later on CDs and lately fully digitalized sound production. Listening to words and pronunciation is a crucial part of language learning, as much as having a dictionary and Langenscheidt is always ahead to give access to language technology.
Search the German-Dutch dictionary by letter
If you are not sure of the word you want to translate then you can click on a letter below and browse a full list of German words in the German-Dutch dictionary. This is a good option if you do not know the correct spelling of the word. By selecting a word in the list, you will find all Dutch translations and relevant German synonyms.