German-Croatian dictionary
Croatian – a Slavic language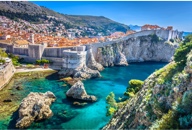 As a Slavic language, Croatian may sound utterly foreign to German ears. But with the help of the German-Croatian online dictionary from Langenscheidt, you will quickly be able to familiarise yourself with Croatian. Since Croatia became a member of the EU in 2013, Croatian has also been an official language of the European Union.
On your way to the Adriatic with Langenscheidt
Whether it's a round-trip through Croatia's diverse landscape or a relaxing beach holiday on the Adriatic Sea – our German-Croatian online dictionary is always by your side. With approximately 75,000 keywords and phrases for everyday life, the media, the economy and politics as well as numerous grammatical aids and pronunciation tips, it provides valuable support for communicating.
At home or on the go – always ready for use
No matter whether at home or on the go – the German-Croatian online dictionary from Langenscheidt is always with you. Whether it's on a smartphone, tablet or desktop computer, its users have fast and intuitive access to the German terms and their Croatian translations.
The desired term can be looked up either by entering it into the search box or via an alphabetical search. Here, by selecting the first letter in an alphabetical list, the complete list of all German words and phrases beginning with this letter is displayed. This can be scrolled through – the Croatian translation is shown by clicking on the German word.
Langenscheidt: Because languages connect
Langenscheidt, a German publisher, is a traditional media company with a broad range of offers concerning languages. Thanks to our cross-media alignment, we offer versatile and high-quality digital language products and services both online and offline, in addition to the classic print dictionaries.
The cornerstone was laid by a ground-breaking invention by the publisher's founder, Gustav Langenscheidt, more than 150 years ago: Collaborating with his language teacher Charles Touissant, he developed an innovative phonetic transcription method. Learning languages would now become easier for everyone. The publisher made a successful start in 1856 with its first self-learning course for French.