German-Chinese dictionary
Chinese is the most widely spoken language in the world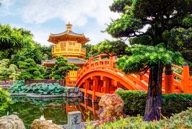 Chinese is spoken in many countries: in the People's Republic of China, the Republic of China (Taiwan), in Singapore, Indonesia, Malaysia, Thailand, Vietnam and in the Philippines. But the majority of the 1.3 billion native speakers reside in the People's Republic of China and in Taiwan. There is, strictly speaking, no one Chinese language. Rather, there are eight different Chinese languages which all have one thing in common: Chinese characters. Reference is made to dialects when talking about these languages, which may appear odd with regard to our use of language in the West, given that these dialects are, in part, so different that communicating between one another is not at all possible. When we speak of Chinese, we typically mean Mandarin. Mandarin is the most commonly spoken Chinese dialect.
Wondrous Chinese characters
The major common feature between Chinese dialects is the lettering: all dialects are captured in writing using Chinese characters. Written Chinese uses a morphological script, i.e. one sign stands for one syllable. But it's not just that which makes Chinese such a challenge for us. The quantity of signs and symbols is also impressive. Although many of the 87,000 signs and symbols theoretically available are, of course, seldom or hardly used, everyday communication still requires approximately 3,000 signs. Those unfamiliar with these signs can find help with the Pinyin transcription system.
The Langenscheidt Chinese dictionary
The Langenscheidt Chinese dictionary contains the most important keywords and phrases, primarily taken from today's standard Chinese – which is also known as Mandarin – as spoken in the People's Republic of China. Part of the vocabulary includes current terms from important areas such as information technology, politics and society, culture and sport. Given that idiomatic phrases in particular are part and parcel of everyday language use, significant attention was also paid to this aspect of modern communication.
German or Chinese? Our bilingual dictionary contains all manner of words
Langenscheidt has combined its many years of experience and linguistic knowledge to produce the best online dictionary for all those learning Chinese, no matter where they are. The dictionaries can be accessed on a computer, tablet or mobile phone. Thanks to its fantastic design, Pinyin transcription system and pronunciation guide, the German-Chinese dictionary can even be used with ease when travelling or commuting. Always at your fingertips, giving you the right translation in just a few clicks.
Langenscheidt – the first-class dictionary for many foreign languages
As a top provider of dictionaries and a market leader in language learning, Langenscheidt offers a wide range of first-class language products and provides cross-media and mobile access to a world of more than 35 languages. The topics of "language learning" and "referencing" focus on innovative products such as intelligent learning programmes for independent learners, which can be adjusted to individual needs as well as dictionaries available in online and offline versions.
Searching for letters in the Langenscheidt German-Chinese dictionary
When using the letters listed below to manually click through the German-Chinese dictionary, a complete list of German words is displayed. In order to view all relevant translations in Chinese and the corresponding synonyms, you simply have to click on a word.