French-German dictionary
Always find the right translation with the help of the free online French-German dictionary from Langenscheidt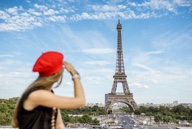 The French-German online dictionary is an excellent choice for anyone that wants to learn languages quickly and efficiently. It is ideal as a quick reference source, leading directly to the searched term. In both directions, you can either enter the term or search alphabetically. To do this, select the first letter of the search term from the alphabetical list of the French-German dictionary. Once you find the relevant term, click on it to go directly to its translation.
Why use the French-English dictionary to learn French?
French is a world language, a language of savoir-vivre, which still dominates quite literally the fashion world (haute couture) and the kitchen (haute cuisine). As a legacy of the colonial period, the French language is spoken natively on all continents. French is an official language in France, Canada, Switzerland, Belgium, Haiti and many countries in the West and Central Africa, among others. It is also widely used in Arabic-speaking North Africa and in Southeast Asia as a second language.
In a globalised world, it is becoming increasingly important to speak several languages. The Langenscheidt online dictionary is an excellent tool for learning a new language. It not only helps to find the right German or French translation, but it also offers additional features to assist learners in understanding and speaking French perfectly. As a result, users can learn new words and phrases easily and effectively and continuously improve their foreign language skills.
Look up words in the online dictionary at your office desk or on the go
Whether on a desktop computer or on the move, using a smartphone or a tablet, the free online dictionary allows you to translate terms in both directions. It is an excellent solution not only for professional users such as translators, interpreters and linguists, but also for students. The dictionary has been compiled and tested by the leading dictionary publisher Langenscheidt, which is a guarantee of reliability. Now nothing stands in the way of you learning a new language or improving your vocabulary.
Learn languages the easy way
For over 150 years as a language specialist, Langenscheidt has been guiding people throughout the process of learning new languages. The groundbreaking invention by the founder of the publishing house, Gustav Langenscheidt (1832-1895), laid the foundations for future success: together with his language teacher, Charles Touissant, in 1856 he developed an innovative phonetic system, the purpose of which was to make learning languages easier. Having developed the first self-study/correspondence method for learning the French language, the publishing house got off to a good start.
About Langenscheidt
Langenscheidt Verlag is a traditional media company offering a wide range of products and services in the field of languages. As a publishing house, Langenscheidt has always been known for diversifying its portfolio of products and, in addition to traditional print dictionaries, offering a broad range of high-quality digital language products and services.
Search the French-German dictionary by letter
Are you unsure about how to spell a French word and can't find it by searching? Use the letters below to get a complete list of French words with translations found in the French-German dictionary. Once you find the fitting French word, you can click on it to be taken to the corresponding page in the dictionary.