Dutch-German dictionary
Dutch is a fantastic language for German learners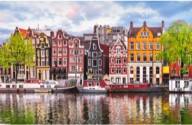 There are many similarities between Dutch and German. Nevertheless, you have to practice Dutch in more depth to be able to follow and participate in a conversation with natives. The Langenscheidt Dutch-German dictionary helps you to find the right words for every situation. If you like to travel, it is very helpful to know Dutch. Dutch is not only spoken in the Netherlands but also in Belgium, Suriname and the Caribbean: in Curacao and Aruba. Knowing Dutch will get you to experience the Dutch culture and make you feel at home in a foreign country. Furthermore, Dutch is an internationally acknowledged language of business matters.

Advanced language skills in Dutch will get you connected with other entrepreneurs worldwide. The Langenscheidt Dutch-German dictionary also covers business terms which will assist you on your way to Dutch language proficiency. It is not only helpful to learn Dutch for business reasons but also fun, as it is easy to acquire for speakers of German.
The Langenscheidt Dutch-German dictionary is a must-have tool
The updated Dutch-German dictionary, based on the Dutch pocket dictionary, provides about 230.000 keywords, phrases and translations, going beyond the general vocabulary of the modern Dutch language. Furthermore, important terms related to culture, science, technology, economy, politics and sports are provided.
Besides numerous neologisms, a great number of colloquial and vulgar words and phrases have been added to the dictionary. Supported by numerous explanatory references – abbreviations of subject areas, stylistic levels and grammatical specifications – the user is always led to the right translation. The present data is the result of the longstanding work of the author Stanislaw Walewski and Prof. Dr. Erwin Wedel.
Check your Dutch dictionary on the go with Langenscheidt!
Whether you are at home, working on a Dutch translation project or at university studying Dutch for your next exam, the Dutch-German dictionary is only a click away. You can easily check the Langenscheidt Dutch dictionary on your desktop computer. If you would rather check the dictionary on your tablet or your mobile phone, feel free to do so. Our language products are responsive and very simple to browse through, no matter how big or small your device is.
About Langenscheidt:
As the number one publisher of dictionaries and the market leader in the field of language learning, Langenscheidt offers a wide range of premium quality language products and provides cross-media and mobile access to a world of over 35 languages tailored to individual needs. The "language learning," "lexicography," and "playful learning" sections focus on innovative products such as smart language courses for self-learners, which can be tailored to their specific needs, as well as dictionaries in online and offline versions.
Learning Dutch is fun
Dutch is a beautiful language with many similarities to English and German. There are multiple anglicisms occurring in the Dutch vocabulary which makes the language easy to learn for learners with knowledge in English. Listening to Dutch music will give you an impression on the Dutch pronunciation and soon you will remember the words and their meaning. This will get you started on your way to proficient language skills in Dutch. In addition, the Langenscheidt Dutch-German dictionary will help you to acquire vocabulary you find rather difficult to remember. After some time you will realize that Dutch is an easy and fun language.
Browsing the Dutch-German dictionary by letter
Look up a Dutch term in the dictionary by entering your query in the search field. You can search in Dutch to translate from Dutch to German, but also search in German for Dutch translations. You can also search other online dictionaries apart from the Dutch-German dictionary by selecting one from the drop-down menu.