Danish-German dictionary
The Langenscheidt Danish-German dictionary makes language learning easy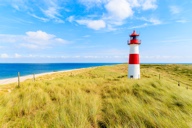 It is a well-known fact that Danish is one of the most challenging languages to learn. Try saying "speciallægepraksisplanlægningsstabiliseringsperiode" – truly, it takes some intense practice to comprehend all sides of the Danish language. Danish is easier for speakers of other Germanic languages, as all of them follow the Latin alphabet and are similar in pronunciation.
But also learners without prior knowledge will find easy access through the Langenscheidt Danish-German dictionary.
Until the 1900s, German was a main language at the Danish Royal Household. This fact explains the multiple German loanwords which can still be found in the Danish language. Especially Denmark's geographical proximity to Germany and both countries' trade relationship have caused linguistic overlaps. Therefore, the German learner finds himself in an advantageous position when studying Danish. Lately, also words of other languages – predominantly English – are inherited into the Danish vocabulary which makes Danish even easier to acquire for learners of all countries.
The Langenscheidt Danish-German dictionary is what you need
The updated Danish-German dictionary provides about 230.000 keywords, phrases and translations, going beyond the general vocabulary of the modern Danish language. Furthermore, important terms related to culture, science, technology, economy, politics and sports are provided.
Besides numerous neologisms, a great number of colloquial and vulgar words and phrases have been added to the dictionary. The right vocabulary choice is simplified by lexicological devices. The present data is the result of the longstanding work of the author Stanislaw Walewski and Prof. Dr. Erwin Wedel.
Learn languages the easy way both online and on the go
Today, learning a language means adapting to the life circumstances of people as they become increasingly complex. Irrespective of whether learners study languages for personal or professional reasons, they need tailored, flexible and mobile solutions. Langenscheidt meets this demand by offering a number of language learning apps for every occasion and platform - vocabulary, grammar trainers or interactive language courses when on-the-go. The focus is on ever smarter language courses for self-learners that can be tailored to their specific needs. Users have access to a comprehensive digital online dictionary at langenscheidt.com Online and offline media are offered here side by side.
Langenscheidt - the number one Danish dictionary
As the number one publisher of dictionaries and the book industry's market leader in the field of language learning, Langenscheidt offers a wide range of premium quality language products, providing cross-media and mobile access to a world of over 35 languages tailored to individual needs. The "language learning," "lexicography," and "playful learning" sections focus on innovative products such as the smart language course for self-learners, and "Langenscheidt IQ", which can be tailored to their specific needs, as well as the new pocket dictionary in online and offline versions.
Learning Danish is a true asset
Regarding the geographical proximity of Denmark and Germany, learning Danish can be a true advantage. Not only for leisure time reasons but also to have possibilities in your professional career. Knowing a few Danish terms can help you to get around very easy and makes you feel closer to the Danish culture. The Danish-German dictionary can assist you in every situation – business meetings or sight-seeing tours. As for its wide vocabulary range it provides terms and phrases for every occasion and will help you to acquire Danish more easily.
Search the Danish-German dictionary by letter
Find the right translations in the Danish-German dictionary by entering a word in the search field. You can enter both Danish and German words for translation. Use the search filters to hide irrelevant Danish-German translation results. You can narrow down your search by using the filter settings for region, style, grammar, etc.