Czech-German dictionary
Czech – a Western-Slavic language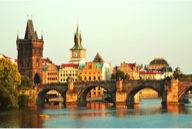 The Czech language belongs to the Western-Slavic languages, which makes it quite difficult for both learners – Czech and German – to learn the particular language. Nevertheless, Czech shows overlaps with German words. It is a big advantage to know some general vocabulary in Czech to be able to get around in the Czech Republic's beautiful cities.

The difference between colloquial, commonly spoken and written Czech is a deterrent for many language learners. Furthermore, the Czech alphabet is extended by many vowel mutations, which can lead to confusions for learners of Czech. Thanks to the Langenscheidt Czech-German dictionary, learners are guided from the beginning while learning Czech.
The Langenscheidt Czech-German dictionary is a must-have tool
The updated Czech-German dictionary, based on the Czech pocket dictionary, provides about 230.000 keywords, phrases and translations, going beyond the general vocabulary of the modern Czech language. Furthermore, important terms related to culture, science, technology, economy, politics and sports are provided.
Besides numerous neologisms, a great number of colloquial and vulgar words and phrases have been added to the dictionary. Supported by numerous explanatory references – abbreviations of subject areas, stylistic levels and grammatical specifications – the user is always led to the right translation. The present data is the result of the longstanding work of the author Stanislaw Walewski and Prof. Dr. Erwin Wedel.
Wherever, whenever - check your Czech dictionary!
Whether on a desktop, mobile phone, tablet or phablet, the free online dictionary allows you to translate words in both directions. It is an excellent solution not only for professional users such as translators, interpreters and linguists, but also for students. The dictionary has been compiled and tested by the leading dictionary publisher Langenscheidt, which is a guarantee of reliability. Now nothing stands in the way of you learning a new language or improving your vocabulary and this wherever and whenever you want.
About Langenscheidt:
As the number one publisher of dictionaries and the market leader in the field of language learning, Langenscheidt offers a wide range of premium quality language products and provides cross-media and mobile access to a world of over 35 languages tailored to individual needs. The "language learning," "lexicography," and "playful learning" sections focus on innovative products such as smart language courses for self-learners, which can be tailored to their specific needs, as well as dictionaries in online and offline versions.
Czech is a vivid language
Czech has seven grammatical cases which can appear difficult to learners of Czech. This fact makes Czech a really vivid language as you have to decline the vocabulary differently in every circumstance. While learning Czech you will notice that there are various special characters added to the Czech alphabet: á,č,é,ě and ň are only a few of the wide range of special characters in Czech. After practicing the Czech alphabet by committed vocabulary learning you will find it easier to distinguish the certain types.
Browsing the Czech-German dictionary by letter
Enter a word into the search field above to translate it from Czech to German. You can also enter words in German as the dictionary is searched in both Czech and German simultaneously. Use the drop-down menu or the dictionary overview page to select another dictionary. The search filters help you identify the correct German translation in the Czech to German dictionary. You can refine by grammar, region or category.