Bulgarian-German dictionary
A multifaceted Balkan country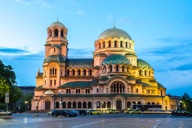 Bulgaria, a member country of the EU and NATO, with its capital city Sofia, has direct land borders with Romania, Serbia, Macedonia, Greece and Turkey. The Black Sea forms a natural border to the East. The Donau flows along the border with Romania and thus forms the border for 470km between the two countries.
A language family without blood relations
Bulgarian belongs to the so-called 'Balkan sprachbund', or the 'Balkan language area', to which languages that are not genetically related but nevertheless have some structural things in common are assigned. Other languages include Albanian, Macedonian, the Torlakian dialect of Serbia, modern Greek and the Balkan Romance languages.
Check your online dictionary at your desk, in the office or on the go
Wherever you use it - on your desktop or on your smartphone or tablet when you're out and about - with the free online dictionary the desired expression can be translated in both directions. It is ideally suited for professionals, such as translators, interpreters and language experts, as well as learners and students. The vocabulary has been compiled and tested by the number one publisher of dictionaries - Langenscheidt – and it is, therefore, a dictionary you can trust to learn the language and expand your vocabulary.